Report:



The Sangre de Cristos are a mountain range that has always fascinated me. I've seen them from afar from I-25 and driving on Hwy 160. I remember years ago learning about the history of the San Luis valley, which follows along the Sangres, with it's historic Hispanic cultural heritage. I remember hearing about the land-access issues and environmental debates of the Taylor Ranch and learning that the folks that owned this Ranch in fact owned a whole fourteener. Access to this fourteener, Culebra, was severely limited for years under this owner. Thankfully, the new owner seems to have less restrictions. I remember visiting the Great Sand Dunes, nestled in a corner against the Crestones and thinking that this was a range I needed to explore. I have been happy to find the time this year to experience what this range has to offer.
After the settling of Tuesday's storm, Frank and I began to plan for a long weekend's worth of skiing. After nailing Oxford and Belford on Friday (TR on that later), we took Saturday to sleep in (no matter what you're skiing 3 am mornings are never fun!) and to head on down to the Sangres to check out the trailhead for Humbolt. We'd seen Humbolt on our trip the previous weekend to Lindsey, and we were pleased to see that this peak was actually holding snow, which can be a rare sight. After hearing that it had snowed 1-2 feet on Tuesday in the Sangres we were reassured that Humbolt would have good snow.
A view of Humbolt on the way to the trailhead.

It's hard to believe that this valley was full of a foot of snow on the ground only a few days before!
We drove up the road toward South Colony lakes and we were able to make it to the National Forest Boundary. Beyond that the road was covered in snow. We left the snowmobile there, ready for the early morning and went to scope out campsites.
The problem with the South Colony TH is the lack of camping along the road because the road spans miles through private property. On our way to the TH I had seen a sign for another trailhead, Music Pass. So, we followed that sign for a few miles and ended up at the Grape Creek trailhead where we found excellent camping. It even came equipped with a refrigerator: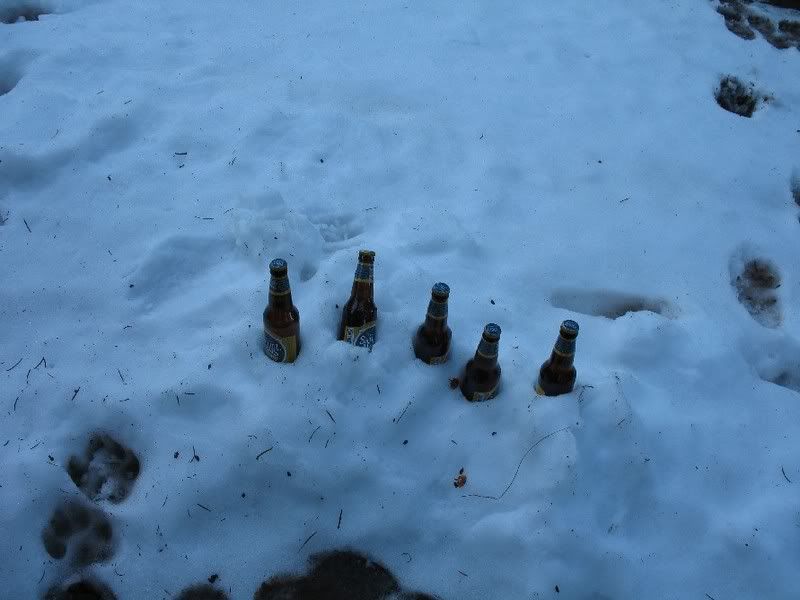 There was plenty of dead trees around to provide wood for fires. But Frank didn't like the smoke :rolleyes2

The morning came early once again and we started up the sled in the dark.

Unfortunately, the road was full of obstacles- large patches of dirt and stream crossings. We weren't able to make it as far as we wanted and a final stream crossing put our sledding efforts to a halt around 10,600 ft. So, we dug out the skins and off we went as the sun began to rise.
Our plan was to skin toward the South Colony lakes but then cut up toward the west ridge of Humbolt. We intended to ski the southeast face or east ridge. It wasn't long before we saw Humbolt and then got a great view of the south side. I spotted this line down that looked like it went from the summit. Little did I know we'd end up skiing this line later.

As we rose up out of the valley the views were remarkable. This area is one of the most scenic areas I've seen in Colorado.
Frank skinning with Crestone Needle in the background.

Broken Hand pass

This is why it's called "Broken Hand" pass :biggrin:

My friends happened to be planning a week-long trip to this area as well and we spotted their tents. I never saw them, but we did see their tracks leading toward Kit Carson.

The more we walked to the west side of the mountain, the more the views changed. Lines popped out that were not visible before. Broken hand pass looked like a different place. And there are lines to be had here off of Broken Hand peak. Can you see them?

With the warm temperatures forecasted for the weekend we were worried about the snow not fully freezing over night- hence our reason for choosing the west ridge ascent which usually has less snow than the east ridge. We were pleased to find that above treeline the snow had frozen solid, most likely with help from the clear night skies.
We reached the saddle around 9:30 and headed up the west ridge.

We were rewarded on the summit with spectacular views (and no wind to bother us!)

Kit Carson

Looking down the valley toward Westcliff and the Wet mountains, with Pikes Peak in the background.

The southern Crestones: Lindsey, Ellingwood, and Little Bear can be seen. I think Blanca is hidden.

Of course, the obligatory summit pic ;)


This is the only picture of me you will see in this TR as Frank choose to video over stills for the day.
We were pleased to that the summit had decent snow. But time was of the essence. Because we weren't able to get as far on the snowmobile as we had intended, our hike was longer than we wanted. Since we were planning to descend a southeast face with quickly warming temperatures, snow stability was a big concern. The snow coverage on the south east face wasn't as appealing as the snow to the south, skiers right of the exact summit. We knew it led to the south-facing couloir we'd spotted earlier. We opted for that route due to the snow coverage and snow stability.
Frank skiing off the summit.

We had to pick our way through boulders that were scattered about at the top, but you could easily turn between them. In this pic you can see Frank's tracks leading through the boulder field. Can you spot him in the pic? (Where's waldo?!!!)

You can see the line opens up into a nice snow field, eventually forming into a couloir.

And some good skiing was had in nice spring snow!

But the day was not over. We still had to contend with getting the snowmobile back to the car, which we were worried about since the snow below treeline had quickly deteriorated with the warming day.
Still, Frank wanted to make sure I took pics of his red-necking steeze-- although he resents the fact that I allude to anything he does as beign redneck at all :tongue: This stream crossing could not be done without pics :rolleyes2

Before we knew it, we were back to the car. But Frank further red-necked it by rescuing a couple of Air Force Academy gapers. They'd come up in their big burly truck with NY license plates hoping for a nice hike, not even thinking there would be snow. Well they made one last fatal error of trying to get up a snow patch which sent their truck backwards, slightly off the side of the extremely muddy road. They had tried for a great deal of time to get out of there, resulting in digging a hole that got bigger and bigger. When Frank came down with his snowmobile, it was like they'd seen a god- or a redneck who could save them- whichever you prefer ;) Frank came along with his big ol' Toyota and towed them right on out. But you should see the pit in the road now that they caused.....
It wasn't long after we'd finished that the afternoon storms started rolling through. A parting shot of Humbolt and Crestone.

I hope I am able to find more time to explore the Sangres again soon!